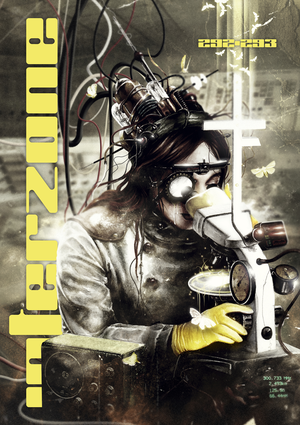 Available
from
Weightless Books
INTERZONE #292-#293 DOUBLE ISSUE
Description
Special double issue packed full of modern science fiction and fantasy. Illustrated fiction by Rich Larson, Alexander Glass, Cécile Cristofari, Tamika Thompson, Val Nolan, Jeff Noon, Charles Wilkinson, Justen Russell, and Lucy Zhang, with interviews, news, reviews and comment.

sohkamyung recommends
INTERZONE #292-#293 DOUBLE ISSUE
by Andy Cox
An average issue of Interzone, the last to be edited by Andy Cox, with interesting stories by Alexander Glass (three of them here), Cécile Cristofari and Tamika Thompson.

Full review at [ https://bookwyrm.social/user/sohkamyung/review/280247/s/an-average-issue-of-interzone ]
sohkamyung is storing 115 ebooks on Libreture. Sign up and start your FREE library today!
Sign Up
Details
EPUB format

Publisher: TTA Press

File Size 4.3 MB
Activity