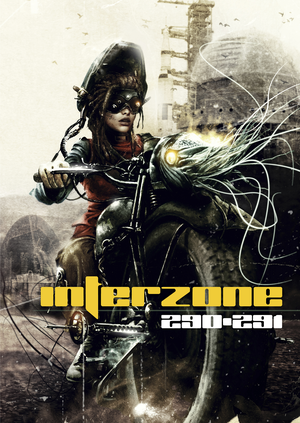 Available
from
Weightless Books
INTERZONE #290-#291 (DOUBLE ISSUE)
Description
This double issue is packed full of modern science fiction and fantasy: New long and short stories by Alexander Glass, Tim Major, Lyle Hopwood, Daniel Bennett, Cécile Cristofari, Matt Thompson, John Possidente, Lavie Tidhar, and Shauna O'Meara; Climbing Stories by Aliya Whiteley (x2); Ansible Link by David Langford; lots of book reviews; six and a half thousand words of Nick Lowe's Mutant Popcorn; wraparound cover art by Vincent Sammy and story illustations by Jim Burns, Vince Haig, Richard Wagner, Dave Senecal, Ev Shipard and others.

sohkamyung recommends
INTERZONE #290-#291 (DOUBLE ISSUE)
by Andy Cox
An above average issue with interesting stories by Alexander Glass, Tim Major, Cécile Cristofari and Shauna O'Meara.
sohkamyung is storing 114 ebooks on Libreture. Sign up and start your FREE library today!
Sign Up
Details
EPUB format

Publisher: TTA Press

File Size 3.6 MB
Activity