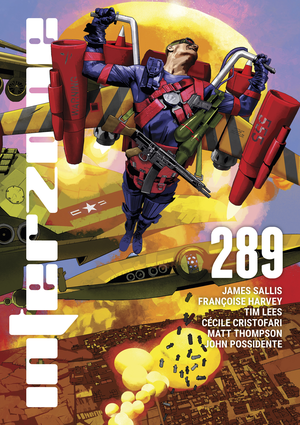 Available
from
Weightless Books
INTERZONE #289 (NOV-DEC 2020)
Description
Interzone #289 is packed full of modern science fiction and fantasy, with new stories by Tim Lees, John Possidente, James Sallis, Matt Thompson, Françoise Harvey, Cécile Cristofari, plus the latest James White Award winner. Our 2020 cover artist is Warwick Fraser-Coombe (another wraparound this issue), and interior colour illustrations are by, amongst others, Richard Wagner, Vincent Sammy, and Jim Burns who also writes this issue's editorial. Features: Ansible Link by David Langford (news and obits); Mutant Popcorn by Nick Lowe (film reviews); Book Zone (book reviews, including Duncan Lawie on Stephen Baxter's World Engines and Maureen Kincaid Speller on Alex Pheby's Mordew); Andy Hedgecock's Future Interrupted (comment); Aliya Whiteley's Climbing Stories (comment).

sohkamyung recommends
INTERZONE #289 (NOV-DEC 2020)
by Andy Cox
A lower than average issue with stories that didn't really attract my attention apart from stories by Cécile Cristofari and David Maskill. The tale by Maskill is the 2019 James White Award Winning story
sohkamyung is storing 115 ebooks on Libreture. Sign up and start your FREE library today!
Sign Up
Details
EPUB format

Publisher: TTA Press

File Size 3.8 MB
Activity