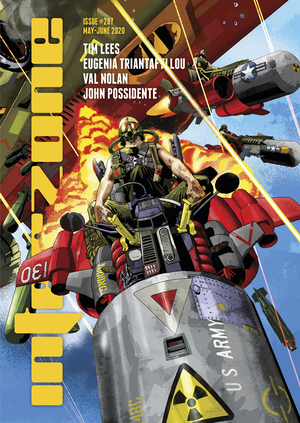 Available
from
Weightless Books
INTERZONE #287 (MAY-JUN 2020)
Description
The May-June issue contains new cutting edge science fiction/fantasy novelettes and stories by Tim Lees, Val Nolan, Eugenia Triantafyllou, and John Possidente. The 2020 cover artist is Warwick Fraser-Coombe, and interior colour illustrations are by Richard Wagner, Martin Hanford, and others. Features: Ansible Link by David Langford (news and obits); Mutant Popcorn by Nick Lowe (film reviews); Book Zone (book reviews); Andy Hedgecock's Future Interrupted (comment); Aliya Whiteley's Climbing Stories (comment); guest editorial by Warwick Fraser-Coombe.

sohkamyung recommends
INTERZONE #287 (MAY-JUN 2020)
by Andy Cox
A better than average issue with a long, strange, tale of travel to another world that may yet be ours by Tim Lees, Eugenia Triantafyllou and ending with a tale of a timely intervention by Val Nolan that may yet make America great again in a different way.
sohkamyung is storing 114 ebooks on Libreture. Sign up and start your FREE library today!
Sign Up
Details
EPUB format

Publisher: TTA Press

File Size 3.7 MB
Activity