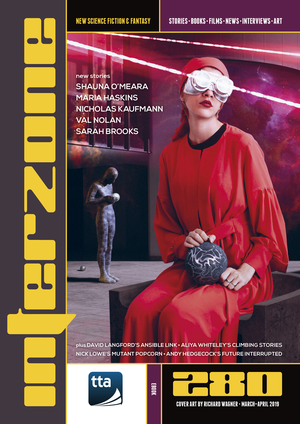 Available
from
Weightless Books
INTERZONE #280 (MAR-APR 2019)
Description
The March–April 2019 issue contains new cutting edge science fiction and fantasy by Shauna O'Meara, Maria Haskins, Nicholas Kaufmann, Val Nolan, and Sarah Brooks. The 2019 cover artist is Richard Wagner, and interior colour illustrations are by Richard Wagner and Martin Hanford. Features: Ansible Link by David Langford (news and obits); Mutant Popcorn by Nick Lowe (film reviews); Book Zone (book reviews); Andy Hedgecock's Future Interrupted (comment); Aliya Whiteley's Climbing Stories (comment); guest editorial by Shauna O'Meara.

sohkamyung recommends
INTERZONE #280 (MAR-APR 2019)
by Andy Cox
A better than average issue with three good stories by Val Nolan, Maria Haskins and Nicholas Kaufmann and an emotional tale by Shauna O'Meara.
sohkamyung is storing 114 ebooks on Libreture. Sign up and start your FREE library today!
Sign Up
Details
EPUB format

Publisher: TTA Press

File Size 2.8 MB
Activity