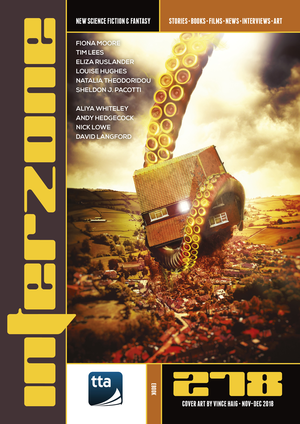 Available
from
Weightless Books
INTERZONE #278 (NOV-DEC 2018)
Description
The November–December issue contains new cutting edge science fiction and fantasy (this time with a specific theme) by Tim Lees, Fiona Moore, Natalia Theodoridou, Eliza Ruslander, Sheldon J. Pacotti, and Louise Hughes. The cover art is by Vince Haig, and interior colour illustrations are by Richard Wagner, Dave Senecal, and Martin Hanford. Features: Ansible Link by David Langford (news and obits); Mutant Popcorn by Nick Lowe (film reviews); Book Zone (book reviews, including an interview with Aliya Whiteley); Andy Hedgecock's Future Interrupted (comment); Aliya Whiteley's Climbing Stories (comment); guest editorial by Tim Lees.

sohkamyung recommends
INTERZONE #278 (NOV-DEC 2018)
by Andy Cox
A not very interesting issue of Interzone, mainly because the stories appear to be on the theme of conflicts (mainly military related) and not of much interest to me. Natalia Theodoridou's story about unusual genetically engineered soldiers is probably the most interesting.
sohkamyung is storing 114 ebooks on Libreture. Sign up and start your FREE library today!
Sign Up
Details
EPUB format

Publisher: TTA Press

File Size 2.7 MB
Activity