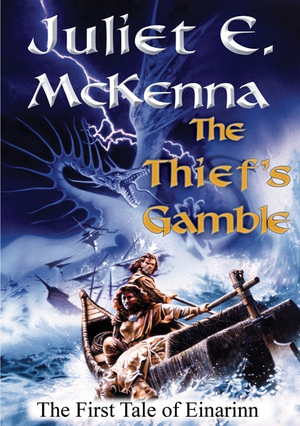 Available
from
Kobo
The Thief's Gamble
Description
Livak is a part-time thief and full-time gambler, long accustomed to living by her wits and and narrowly avoiding serious trouble.

When she attempts to sell a stolen antique to a passing merchant, she finds herself pulled into a new and dangerous world of political intrigue in which the stakes are higher than anyone involved can imagine. For the antique she has acquired dates from a particular period in the history of Einarinn about which little is known, but much has been speculated.

When the truth begins to emerge, Livak decides to take the greatest gamble of her life.

kevin recommends
The Thief's Gamble
by Juliet E. McKenna
I was intrigued by the promise of a living fantasy world, instead of the usual "I was there three thousand years ago, Gandalf. And look, we're still using swords!"

A world where characters have lives, likes and concerns. Where technologies and discoveries change over time. This is epic fantasy that covers the passage of time in a meaningful way.

A fantastic series.
kevin is storing 2,274 ebooks on Libreture. Sign up and start your FREE library today!
Sign Up
Details
EPUB format

Publisher: Wizard's Tower Press

File Size 2.0 MB
Activity