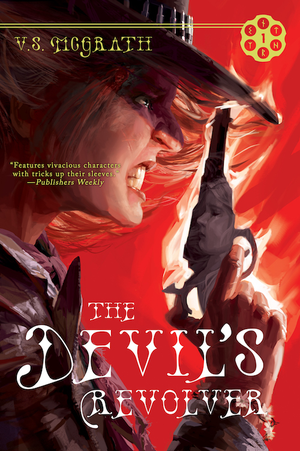 Available
from
Brain Mill Press
The Devil's Revolver
Description
She is Hettie Alabama — unlikely, scarred, single-minded, and blood bound to a revolver inhabited by a demon. 

The first book in an epic, magic-clad series featuring the Wild West reimagined as a crosscultural stereoscope of interdimensional magic and hardship, The Devil's Revolver opens with a shooting competition and takes off across the landscape after a brutal double murder and kidnapping — to which revenge is the only answer.

Hettie Alabama, only seventeen years old, leads her crew of underdogs with her father's cursed revolver, magicked to take a year off her life each time she fires it. It's no way for a ranch girl to grow up, but grow up she does, her scars and determination to rescue her vulnerable younger sister deepening with every year of life she loses.

A sweeping and high-stakes saga that gilds familiar Western adventure with powerful magic and panoramic fantasy, The Devil's Revolver is the last word and the blackest hat in the Weird West.

kevin recommends
The Devil's Revolver
by V. S. McGrath
What a fantastic 'Weird West', magic, action, adventure tale!

This carefully constructed alternative Western story is populated with interesting, but not always likeable, characters. The magic is strange and unpredictable, and is very much part of the world, not added on top.

While a YA fantasy, the book never shies away from addressing the very real violence and horror of genocide.
kevin is storing 2,274 ebooks on Libreture. Sign up and start your FREE library today!
Sign Up
Details
EPUB format
ISBN 9781942083573

Publisher: Brain Mill Press LLC

Published: 5 Sep 2017
File Size 2.0 MB
Activity