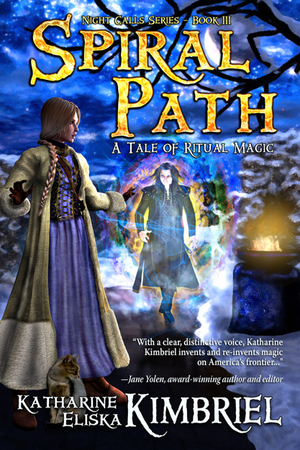 Available
from
Book View Cafe
Spiral Path

kevin
Read
Description
"The world is woven of secrets."

Ritual magic mixes dangerously with wild magic. Yet Alfreda Sorensson's talent has grown until she becomes a target for worldly and unworldly powers. Now, to save her soul, she must leave her pioneer home in the Michigan Territory to take refuge at an elite New York school, where her wild magic places her in direct conflict with the ritual taught to young Americans and Europeans.

Alfreda suspects that half the professors may not be human at Windward Academy. It's a curious place, a last chance for students who can't control their powers, and a place where everything is a test, in one way or another.

At first Alfreda thinks her greatest challenge will be mastering ritual. Then she learns that traitors have infiltrated the school–and the new nation. War looms between the United States and England, and Alfreda answers the call. Only after she spies her way into an enemy magician's estate does she learn the true challenge of her own power–

Because when dark magic finds her, she's utterly on her own.
Details
EPUB format
ISBN 9781611384406

Publisher: Book View Cafe

Published: 16 Sep 2014
File Size 567.3 KB
Activity