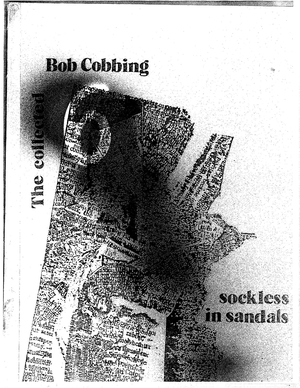 Sockless in Sandals

kevin
To Read
Description
Collected Poems - Volume 6

Second Aeon Publications - 1985

It seems appropriate that Second Aeon which hasn't produced so much as a broadsheet for a decade should move into print again with a volume by Bob Cobbing, its long-term supporter and mentor.

In the magazine's active period, roughly between 1967 and 1975, Bob Cobbing was a regular contributor. Issue16/7 was devoted to him, featuring Eric Mottram's extended appraisal "A Prosthetics of Poetry - the art of Bob Cobbing" together with a large number of texts, poems and photographs. In addition, Cobbing cropped up as participant in many special Second Aeon publications - For Jack Kerouac (1970), Found Poems (1972), Typewriter Poems (1972), and had one of his own, Songsignals, in 1973.
Details
PDF format
ISBN 0901068594

File Size 2.0 MB
Activity