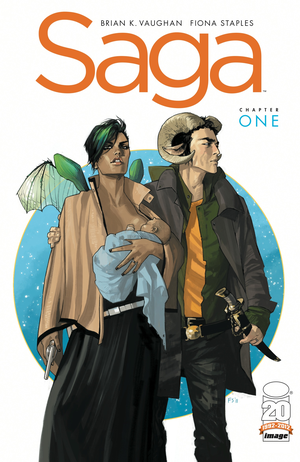 Available
from
Image Comics (Closed)
Saga #1
Description
Y: THE LAST MAN writer BRIAN K. VAUGHAN returns to comics with red-hot artist FIONA STAPLES for an all-new ONGOING SERIES! Star Wars-style action collides with Game of Thrones-esque drama in this original sci-fi/fantasy epic for mature readers, as new parents Marko and Alana risk everything to raise their child amidst a never-ending galactic war. The adventure begins in a spectacular DOUBLE-SIZED FIRST ISSUE, with forty-four pages of story!

kevin recommends
Saga #1
by Brian K. Vaughan, Fiona Staples
Created by writer Brian K. Vaughan and artist Fiona Staples, Saga is a beautifully intimate space opera.

It touches on race, religion, conflict, family and love, with a deft hand and imagery that is just sublime.

Proof that Image Comics' creator-owned approach really works. These are the kinds of stories that comics were made for.
kevin is storing 2,274 ebooks on Libreture. Sign up and start your FREE library today!
Sign Up
Details
EPUB format
ISBN 1234234534567

Publisher: Image Comics

File Size 33.0 MB
Activity