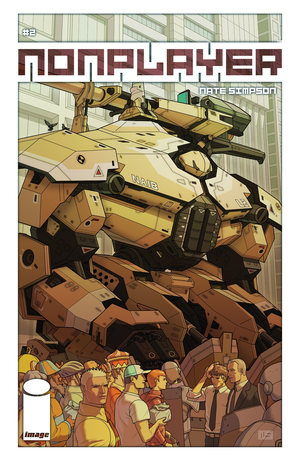 Available
from
Image Comics (Closed)
Nonplayer #2
Description
"THE SOLD-OUT SERIES RETURNS with a much anticipated new chapter! Bent on avenging the death of his queen, game character King Heremoth seeks vengeance against Dana, an unwitting tamale delivery girl. Meanwhile, strange things are afoot in future Los Angeles as a police standoff at a fish market reveals a homicidal robot armed only with seafood. Artist/writer NATE SIMPSON outdoes his beautiful and multi-layered debut with an even more ambitious follow-up."

kevin recommends
Nonplayer #2
by Nate Simpson, Nate Simpson, Nate Simpson
As wonderful and entrancing as the first issue.

This beautifully illustrated second comic from Nate Simpson, opens up the world, broadens the scope and sets up some interesting conflict.

I can't wait for the third in the series. This is a story to get lost in.

Well done Nate and Image Comics.
kevin is storing 2,274 ebooks on Libreture. Sign up and start your FREE library today!
Sign Up
Details
EPUB format

Publisher: Image Comics

Published: 3 Jun 2015
File Size 36.7 MB
Activity