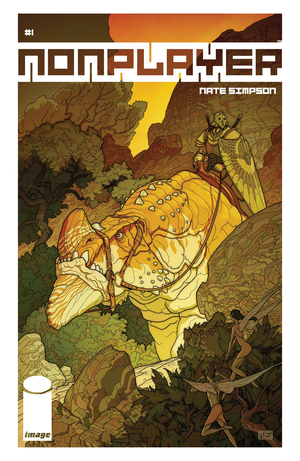 Available
from
Image Comics (Closed)
Nonplayer #1
Description
"The future kind of sucks, and that goes double for Dana Stevens — she's stuck in a dead-end mail delivery job, and she's way too old to be living with her mom. But in the online fantasy world of Jarvath, she's an elite warrior. When she slays the wife of celebrity game character King Heremoth, her fame seems all but guaranteed — that is, until the game spins totally out of control."

kevin recommends
Nonplayer #1
by Nate Simpson, Nate Simpson
Finding the print version of Nonplayer in a local comic shop blew my mind.

The amazing digital artwork is absolutely beautiful. The story - as much of a short snippet you get in a single comic book issue - is cyberpunky and fresh, to me at least.

I only recently realised it was available from Image Comics, along with issue 2. So I'm heading back into its lush artwork and enthralling world.
kevin is storing 2,274 ebooks on Libreture. Sign up and start your FREE library today!
Sign Up
Details
EPUB format

Publisher: Image Comics

Published: 6 Apr 2011
File Size 41.3 MB
Activity