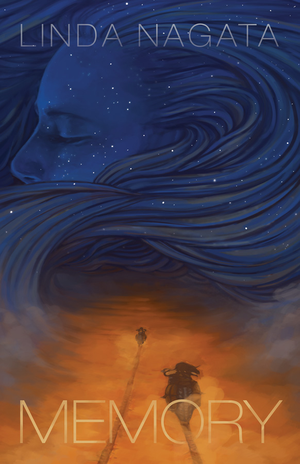 Available
from
Book View Cafe
Memory
Description
A quest, a puzzle, and multiple lives: On an artificial world with a forgotten past, floods of "silver" rise in the night like fog, rewriting the landscape and consuming those caught in its cold mists. Seventeen-year-old Jubilee knows that no one ever returns from the silver--but then a forbidding stranger appears, asking after her beloved brother, lost long ago to a silver flood. Could he still be alive? And why does the silver rise ever higher, threatening to drown the world? Jubilee pursues the truth on a quest to unlock the memory of a past reaching back farther than she ever imagined.

kevin recommends
Memory
by Linda Nagata
An amazing story that more than fulfils my need for great world-building. Such a creative mix of the unrecognisable, beautiful prose, and an uncanny skill for weaving technology into mythology.

Memory is slow to build, but when it does, it does so steadily. As our characters explore the 'Ring of the World' we learn with them, understand with them and fight back with them.

A wonderful read.
kevin is storing 2,254 ebooks on Libreture. Sign up and start your FREE library today!
Sign Up
Details
EPUB format

Publisher: Mythic Island Press LLC

Published: 14 Mar 2011
File Size 516.2 KB
Activity