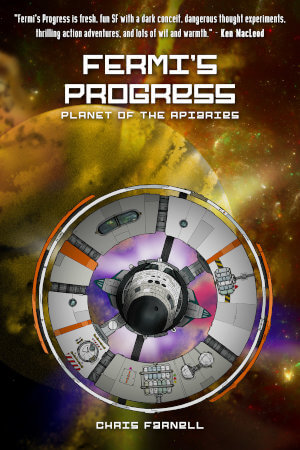 Available
from
Scarlet Ferret
Fermi's Progress: Planet of the Apiaries
Description
"The Fermi is the Earth's first and last faster-than-light spaceship. The last, because it turns out its engine vaporises entire star systems in its wake. And nobody knows how to turn it off."

Queen is a gas giant, where space-suited beekeepers tend enormous floating hives to extract the precious rocket fuel the giant bees manufacture within. The Fermi desperately needs that fuel if its crew don't want to starve to death stuck on their ship, so they strike a deal. The Fermi will rescue some stranded beekeepers in exchange for a tank of fuel.

But things take no time to go wrong, and soon two of the crew are marooned in an increasingly hostile alien hive, while something has made it back to the Fermi…

kevin recommends
Fermi's Progress: Planet of the Apiaries
by Chris Farnell
The Fermi crew is a mess, but in Planet of the Apiaries, they're starting to come together. Starting to discover their roles, and what each of them means to the others... even if they can't remember them all.

The sci-fi references come thick and fast, but are never exclusionary. This fantastic third instalment ups the ante and drops a bombshell in its final line!

Must read sci-fi!
kevin is storing 2,274 ebooks on Libreture. Sign up and start your FREE library today!
Sign Up
Details
EPUB format

Published: 23 Jun 2021
File Size 627.6 KB
Activity