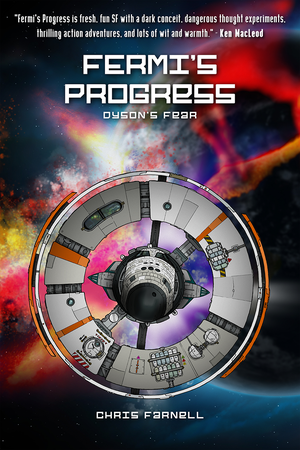 Available
from
Scarlet Ferret
Fermi's Progress 1: Dyson's Fear
Description
The Fermi is Earth's first faster-than-light capable spaceship. It's also its last. The moment its engines engage, it unleashes a shockwave that vaporises entire planets, entire solar systems.

Fermi's crew, the last surviving members of the human race, now find themselves circling an ancient Dyson sphere in a distant corner of the galaxy, where they must explore a city of ships and negotiate with a vast, lonely AI for their survival. But that isn't their only problem.

Because the Fermi's engines are powering up again…

kevin recommends
Fermi's Progress 1: Dyson's Fear
by Chris Farnell
This book got me hooked!

It delivers hard science fiction, pathos, beautifully dark comedy, a dig at every lazy sci-fi trope in existence, plenty of laughs, and is simply a must-read.

You know what you're getting into from the clever book titles. The humour is Jonathan Swift meets Red Dwarf. And the science is terrifyingly accurate...

...unfortunately!
kevin is storing 2,274 ebooks on Libreture. Sign up and start your FREE library today!
Sign Up
Details
EPUB format

Published: 7 Jan 2021
File Size 1.9 MB
Activity