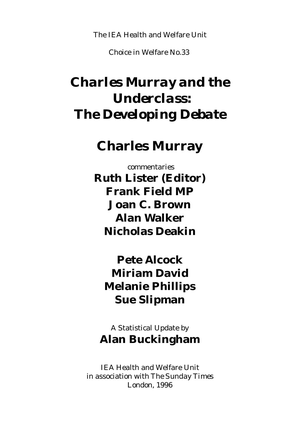 Charles Murray and the Underclass: The Developing Debate

kevin
To Read
Description
This publication brings together Charles Murray's two major essays on the British Underclass. Part 1 reproduces The Emerging British Underclass originally published by the IEA in 1990 following its earlier appearance in the Sunday Times Magazine. The commentaries by Frank Field, Joan C. Brown, Alan Walker and Nicholas Deakin are also reprinted.

Part 2 reprints Charles Murray's follow-up essay, Underclass: The Crisis Deepens which was first published in September 1994 following its appearance in The Sunday Times in May of that year. Four commentaries by Pete Alcock, Miriam David, Melanie Phillips and Sue Slipman are also reproduced.

This edition benefits from a new introduction by Professor Ruth Lister and a statistical update by Alan Buckingham.
Details
PDF format

File Size 576.9 KB
Activity