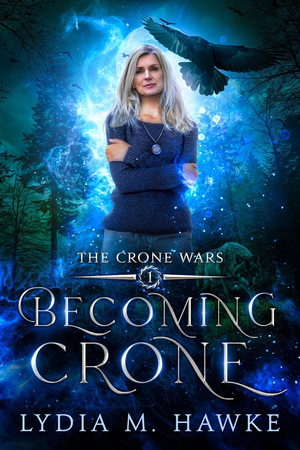 Available
from
Scarlet Ferret
Becoming Crone (The Crone Wars)
Description
She wanted purpose. She found dark magick and war.

For Claire Emerson, there is nothing ordinary about turning sixty. First, there are the crows. Then, a pendant that unlocks a gate to a house in the woods--which comes with a snarky gargoyle, an entirely too-sexy wolf shifter claiming to be Claire's protector, and a legacy that turns her reality upside down.

Because divorced, menopausal grandmothers with creaky hips and hot flashes? They don't just randomly discover they're next in a long line of powerful women protecting the world from the dark magick of Mages.

Claire's first instinct is to turn tail and run back to the safety of baking cookies and reading bedtime stories. But when it becomes clear the Mages have targeted her, she may have no choice but to accept her calling.

There's just one problem: she never got the lifetime of training she was supposed to have, and her magick is... well, unreliable would be an understatement. With the Mages threatening everything she loves, can Claire learn what she needs to in time to become Crone? Or will she be the one to lose an ancient war - and her life?

kevin recommends
Becoming Crone (The Crone Wars)
by Lydia M. Hawke
Fans of urban fantasy looking for a protagonist who is a little more... mature, will love Becoming Crone.

Claire has seen it all, or so she thinks. Her world-weariness, her highly-developed lack of trust, and her not-unexpected ability to expect things to go wrong make her the perfect character to introduce us to a world of witches, gargoyles, werewolves, and witches, plenty of witches.
kevin is storing 2,254 ebooks on Libreture. Sign up and start your FREE library today!
Sign Up
Details
EPUB format

Publisher: Michem Publishing

Published: 17 Jun 2021
File Size 463.1 KB
Activity