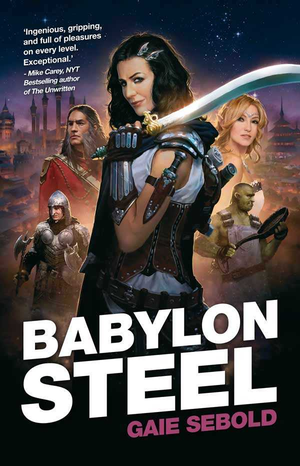 Available
from
Rebellion Publishing
Babylon Steel
Description
Babylon Steel, ex-sword-for-hire, ex…other things, runs The Red Lantern, the best brothel in the city. She's got elves using sex magic upstairs, S&M in the basement and a large green troll cooking breakfast in the kitchen, and she'd love you to visit, except… She's not having a good week.

The Vessels of Purity are protesting against brothels, girls are disappearing, and if she can't pay her taxes, Babylon's going to lose the Lantern. She'd given up the mercenary life, but when the mysterious Darask Fain pays her to find a missing heiress, she has to take the job. And then her past starts to catch up with her in other, more dangerous ways.

kevin recommends
Babylon Steel
by Gaie Sebold
Gaie Sebold has created such a rich universe of worlds and characters in her Babylon Steel novels, that you can't help finding something to enjoy.

For me the two books have been a complete blast and I can't wait for the third... when it arrives.

They are FUN! That's not to say there's no emotion, pathos, danger and risk in them. Not at all.

An absolute riot of multi-world fantasy fiction.
kevin is storing 2,281 ebooks on Libreture. Sign up and start your FREE library today!
Sign Up
Details
EPUB format
ISBN 9781849973250

Publisher: Solaris

File Size 525.3 KB
Activity