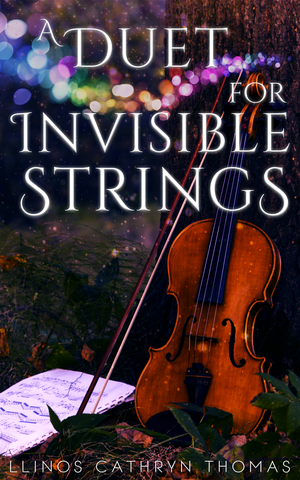 Available
from
Scarlet Ferret
A Duet for Invisible Strings
Description
Heledd, leader of the first violins, has been in love with her irrepressible conductor Rosemary for years.

A secret from her past means she must hide how she feels, but the time they spend working and performing together is enough for Heledd – until a near miss with a speeding car forces her to rethink everything she thought she knew.

When the orchestra is mysteriously summoned to perform in the Welsh village where Heledd grew up – a village she hasn't returned to in decades – the life she's made for herself begins to unravel, and her secrets threaten to escape.

kevin recommends
A Duet for Invisible Strings
by Llinos Cathryn Thomas
A Duet for Invisible Strings is a romance novella filled with music, mystery, and love, with a paranormal twist, and is my perfect romance story.

The writing is often haunting, and at other times, sweetly hilarious. Which, in all, paints the most wonderful picture.

A beautiful romance that I just couldn't put down. A must read for anyone looking for deep characters in a short book.
kevin is storing 2,281 ebooks on Libreture. Sign up and start your FREE library today!
Sign Up
Details
EPUB format

File Size 2.8 MB
Activity