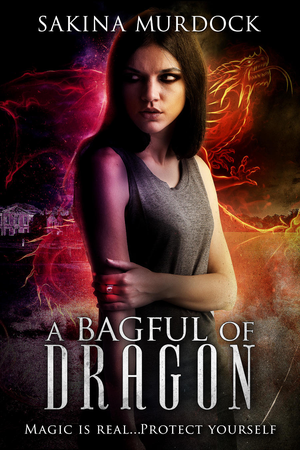 Available
from
Scarlet Ferret
A Bagful of Dragon
Description
Inayat isn't a witch. She's a not-quite-ordinary twenty-something, screwing up her life one failed date at a time. But when she dumps the wrong magician, Inayat finds herself in a bubbling cauldron of paranoid fear.

The arrival of an unusual bag of jewellery heralds an alarming increase in frightening events, dragging Inayat and her friends into the magical web spun by her adversary. He wants something Inayat has and he's prepared to take her spirit if she resists.

Inayat has only dabbled in magic before, but now she must learn fast or lose for all eternity. She's got plenty of fight in her, but is it enough, or will she succumb to the hatred of a man who just can't lose?

kevin recommends
A Bagful of Dragon
by Sakina Murdock
I proofread this book for the author, thinking it wouldn't be my kind of thing, but I LOVED IT! Loads of fun, really creepy in parts and full of magic and danger.

Set in Leeds, it includes references to actual magical practices and Yorkshire's thriving magic sub-culture.

A great, fast-paced story with a strong 'Do It Herself' female lead. Can't wait to proof read the sequel.
kevin is storing 2,274 ebooks on Libreture. Sign up and start your FREE library today!
Sign Up
Details
EPUB format
ISBN 9780463594810

File Size 524.6 KB
Activity