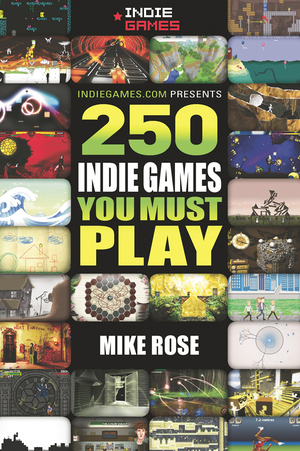 250 Indie Games You Must Play

kevin
To Read
Description
With a surge in popularity recently and an increase in great downloadable games, there has never been a better time to learn about independent "indie" games. 250 Indie Games You Must Play is a guide to the exciting and expanding world of indie gaming. Whether you are a veteran of the indie game scene or have never played an indie game before, this book helps you experience the best in indie gaming and further your understanding of why indie games are so important in the entertainment industry.

The wide range of games highlighted in the text encompasses concepts and ideas that will change your perspective of what video games can be. The book covers puzzlers, platformers, beat 'em ups, shoot 'em ups, role-playing, and strategy.

Apart from being fun, indie games can be experimental, emotional, nostalgic, and occasionally just plain bizarre. Some make you sit back in awe, while others have you thinking, "Why have I never played a game like this before?" Better still, the majority of these games are completely free to play and even the commercial releases are incredibly cheap. Once you start playing indie games, you may not be able to look at your big-budget blockbusters the same way ever again.
Details
EPUB format
File Size 13.4 MB
Activity