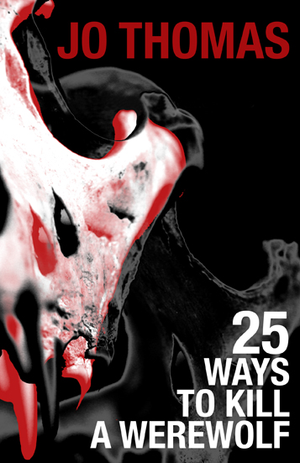 Available
from
Fox Spirit Books
25 Ways To Kill A Werewolf
Description
"My name is Elkie Bernstein. I live in North Wales and I kill werewolves."

When Elkie finds herself fighting for her life against something that shouldn't exist she is faced with the grim reality that werewolves are real and she just killed one.

Part diary, part instruction manual Elkie guides the reader through 25 ways you can kill a werewolf, without any super powers, and how she did it.

kevin recommends
25 Ways To Kill A Werewolf
by Jo Thomas
A brilliantly modern take on the werewolf slayer trope where a growing, changing character discovers that the real predators are usually the men in her life.

There's much more to this book than how Elkie kills werewolves and works out where they're coming from. Her relationships change, she finds out what she's capable of, not just killing 'furred-up' beasts, but farming, rescuing, growing.
kevin is storing 2,281 ebooks on Libreture. Sign up and start your FREE library today!
Sign Up
Details
EPUB format

Publisher: Fox Spirit

File Size 380.2 KB
Activity