Michael Kaye is a B-Mecha pilot who spends every hour of the day on standby ready to suit up if a Kaiju attacks. The problem is that he's underfunded, over-publicized and feels the constant pressure to meet unrealistic targets with an ever dwindling budget.
The press constantly portray Michael as a liability, post cruel memes about him and his wife, and a vocal minority are actively campaigning for him to be removed from his position. To what he sees as the morally corrupt "journalists", influencers, and all the anonymous social media users trying to destroy his life, Michael has a simple message:
"Go fuck yourself!"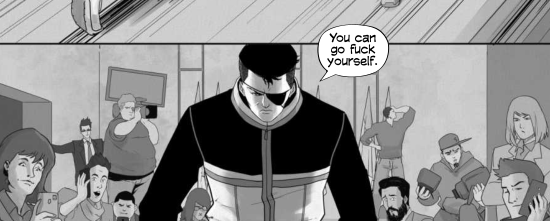 Gritty
B-Mecha is written by Jamie Me, it's edited by Archie Dait, and the art is by Neri Rearte. The comic, along with its upcoming sequel B-Mecha: Ishaani, was funded entirely by supporters on Kickstarter, and both campaigns smashed their funding goals!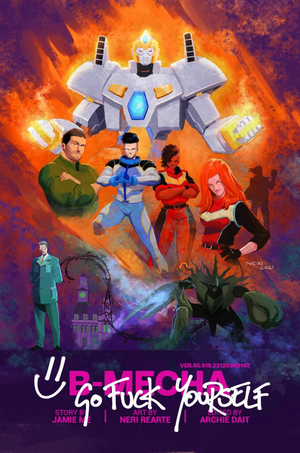 Over more than a decade Jamie Me and Archie Dait, along with the artists they've worked with on each project, have built up a fan following that clearly demonstrates the desire for an alternative to the usual US-centric superhero and action fare. Each subsequent book and series has garnered increased critical and fan praise, and each has been more ambitious than the last. But the most important aspect, at least for me, is the realism. I don't mean the art (which is fantastic), but rather the story and settings that Jamie creates and writes, and the team develops.
B-Mecha isn't set in Los Angeles, New York, Tokyo or Shanghai. You don't see the London Eye on every other page, and you certainly don't get the jingoistic storylines that pepper even the most well-meaning mainstream books.
What you do get is a Leeds setting that is realistic. Seriously, if Kaiju were to pop out of the ground, would they only do so in recognisable, Arts Council funded, photogenic major cities, home to a large cinema-going population with healthy disposable incomes?
Of course not!
Up North!
As a Welshman living in Cumbria, local representation is important to me. As in Wales, very little popular culture is based in Cumbria or the North of England from the perspective of pride in the locality - it's usually only from a need to signify poverty, rurality, "under-development", un-cultured even. The work of Jamie Me and Archie Dait works to fix that.
For a period in the 80's my Mum would return from shopping in the nearest big town on Fridays with a comic for me. I got to read the odd issue of Sgt. Rock (from DC), one or two from Rebellion (I remember a portion of Wildcat: Turbo Jones), and even an issue of, mind-blowing to me at the time, DP 7 (one of the few Marvel titles I remember reading).
With no access to comics on a regular basis or closer to home, my interest dwindled until I was older. In my teens, I would pick up and enjoy the more cinematic titles. I remember owning a hefty copy of The Greatest Batman Stories Ever Told (Son of the Demon held me in good stead when Nolan took the Batman film reins). And I definitely remember owning Batman vs. Predator - the trend here was my growing access to cinema in the early 90's while studios were shifting to comic books for inspiration.
I grew tired of the sameness of mainstream works (the lack of male mental health support in the US is kinda obvious from the comics, right?), and instead enjoyed Mouse Guard, and Becky Cloonan's By Chance or Providence series. And Saga and Nonplayer, published by Image. And while expanding the DRM-free bookshop list for Libreture, discovering individual comic artists and writers with their own digital shops - way too many to list here.
Welsh comic artists are doing great work, with examples like Marchog Draenog by Aled Lies. And Yorkshire artists and writers are stepping around the gatekeepers to forge their own path in comics.
B-Mecha's Leeds setting is real, personal, immediately recognisable to those who know Leeds, and completely confusing to US audiences. People say "write what you know". Well, do all UK comic creators live in New York or LA? No they don't. Representation matters in all media, including comic books. Living in the North of England, I love to see books and films genuinely set here.

Local accents in B-Mecha are apparent, as are the people, the locations are spot on - which gives us a way in to the story.
Kaiju Attack!
Former boxer, Michael, pilots 'Prizefighter'. Michael is hot-tempered and extremely passionate about protecting the people of Leeds, in an under-funded mech, in need of a newer and better power core to sustain longer fights, all while being criticised for accidentally destroying local landmarks in the process of saving lives.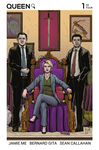 Jamie is no stranger to depicting politics and corruption, having previously created the stunning British crime-political-thriller series Queen, and B-Mecha demonstrates a similar awareness of local politics and media-pleasing bureaucracy.
This isn't your propaganda-and-trope filled flag-waver. B-Mecha is fully aware of its place in Mech vs. Kaiju lore, and up-ends it in glorious West Yorkshire fashion. This first issue introduces us to the characters and setting of near-future Leeds - even including a battle in 'Hyde Park'. We're given a concise yet comprehensive view of the lay-of-the-land, the pressures an unwilling celebrity 'emergency worker' would face, and the personal toll when Michael receives very little thanks for the dangerous work he does.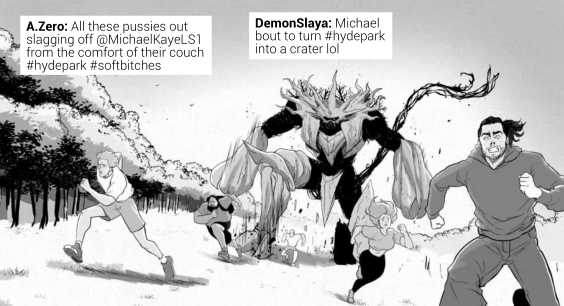 The second issue, B-Mecha: Ishaani is already fully funded (and then some!) on Kickstarter - which is where I received my digital copy of B-Mecha 1. Ishaani's character is hinted at in the first issue if you can spot it, and promises even more insight into the lives, work, tribulations, and Kaiju battling of a B-Mecha pilot, this time in the West Yorkshire city of Bradford.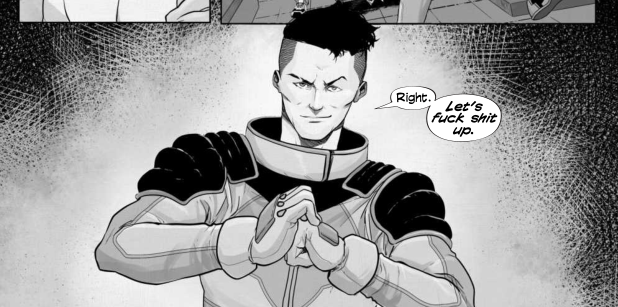 Happy Reading,

Kevin
My Library