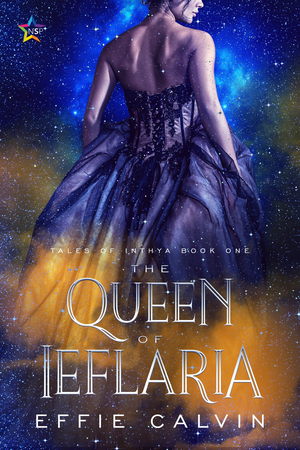 Available
from
Smashwords
The Queen of Ieflaria
Description
Princess Esofi of Rhodia and Crown Prince Albion of Ieflaria have been betrothed since they were children but have never met. At age seventeen, Esofi's journey to Ieflaria is not for the wedding she always expected but instead to offer condolences on the death of her would-be husband.

But Ieflaria is desperately in need of help from Rhodia for their dragon problem, so Esofi is offered a new betrothal to Prince Albion's younger sister, the new Crown Princess Adale. But Adale has no plans of taking the throne, leaving Esofi with more to battle than fire-breathing beasts.

sapphiction recommends
The Queen of Ieflaria
by Effie Calvin
I unintentionally binged this awesome fantasy. This book is was nearly impossible to put down, but I had to eat every now and then. Such a fun read!

I love the world-building, the dialogue, the characters, and pretty much everything about this book.

I can't wait for the sequel! I'm reading it next. Errr, I'll probably binge it too...
sapphiction is storing 516 ebooks on Libreture. Sign up and start your FREE library today!
Sign Up
Details
EPUB format

Publisher: NineStar Press, LLC

Published: 8 Jan 2018
File Size 2.3 MB
Activity