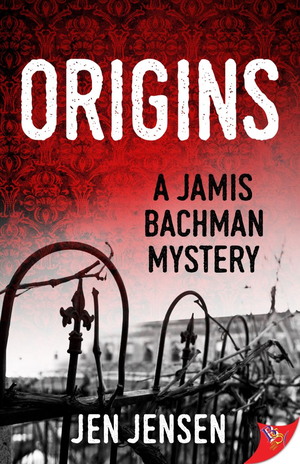 Available
from
Bold Strokes Books
Origins
Description
Jamis is still healing from her last adventure when she's pulled into another dangerous mystery.

There's an inherited house in the middle of the Arizona desert and a strange spirit visiting the new owners at nighttime, repeating, "She knows." There's a living person creating mayhem. There's a demon whispering in Jamis's ear. Behind it all is a woman Jamis only glimpses in shadows.

Somehow, it's all connected to Jerome, Arizona, where Jamis witnessed a terrifying vision years before. Jamis is about to learn her path wasn't arbitrary and the truth of her origins as a ghost hunter. But will she and her new relationship withstand the answers she finds?
Handsome, intelligent, street-smart, ruthlessly ambitious, and omnisexual, young Addison Grimmins has been hired by the Lord Exchequer of England to be his second and to do what Lord R. cannot do himself. After a country estate wedding, the Marchioness of R. is discovered missing. Is it a kidnapping or…a more sinister plot? Addison vows to find her and bring her back no matter what it takes. It is the 1880s and despite only letters, bribed information, and telegrams as communication; despite only horse, coach, and train service as transportation, Addison tracks Lady R. across Europe, via the strangest people and places: from Venetian palaces to opium dens. Who and what he discovers about her, and more fatefully about his own life, will lead Addison to the crisis of his life, an extraordinary decision, and a stiletto duel with his most implacable foe.
sapphiction is storing 516 ebooks on Libreture. Sign up and start your FREE library today!
Sign Up
Details
EPUB format
ISBN 9781635558388

Publisher: Bold Strokes Books

Published: 1 May 2021
File Size 580.4 KB
Activity