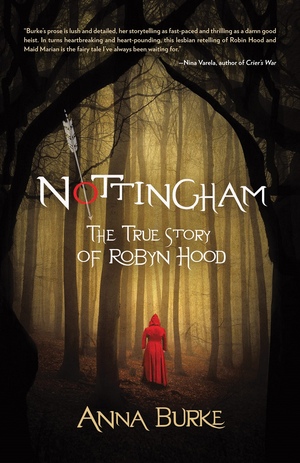 Available
from
Bywater Books
Nottingham
Description
This is Robyn Hood, the legendary outlaw like you've never seen her before..

After a fateful hunting accident sends her on the run from the law, Robyn finds herself deep in the heart of Sherwood Forest. All she really wants to do is provide for her widowed sister-in-law and newborn nephew. But when the damnable Sheriff of Nottingham levies the largest tax in the history of England, she's forced to take matters into her own hands. Relying on the help of her merry band of misfits and the Sheriff's intriguing—and off-limits— daughter, Marian, Robyn must find a way to pull off the biggest heist Sherwood has ever seen.

With both heart and freedom at stake, just how much is she willing to risk to ensure the safety of the ones she loves?

sapphiction recommends
Nottingham
by Anna Burke
Love this! A perfect blend of humor, action, and romance. The characters were delightful and endearing. The pacing was great. The writing is top notch. It was so hard to put down. Don't start this one if you've got things to do.
sapphiction is storing 516 ebooks on Libreture. Sign up and start your FREE library today!
Sign Up
Details
EPUB format
ISBN 9781612941660

Publisher: Bywater Books

Published: 1 Jan 2020
File Size 1.2 MB
Activity