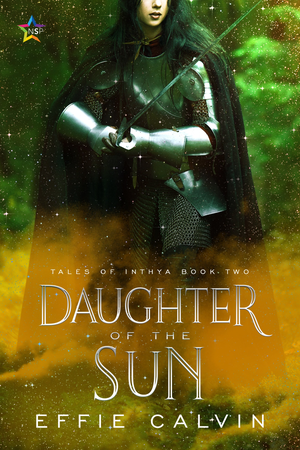 Available
from
Smashwords
Daughter of the Sun
Description
Orsina of Melidrie is a paladin of the Order of the Sun, sworn to drive out corruption and chaos wherever she finds it. She has been ordered to leave her home and travel around Vesolda in search of a great evil she is supposedly destined to destroy. But after two years of fighting monsters and demons and evil gods, she does not seem to be any closer to her goal—or ever returning home.

Aelia is the Goddess of Caprice, the personification of poor decision-making. The Order of the Sun has classified her as a chaos goddess, meaning that her worship has been outlawed. During a run-in with Orsina, she is trapped in a mortal body, rendering her unable to leave Inthya.

Aelia is found by Orsina again, but this time Orsina does not recognize her in her new body. So Aelia pretends to be a mortal woman who is fleeing an abusive family. Aelia plans to use Orsina as protection as she hunts down the magical relic that will free her from her mortal body.

As Aelia and Orsina grow closer to one another, Aelia wrestles with her own desire to tell Orsina the truth about who she is, and her fear that Orsina will turn on her if she does. But the decision might not be hers after all, because their actions have not gone unnoticed by Aelia's siblings.

sapphiction recommends
Daughter of the Sun
by Effie Calvin
Oh, wow, this is an enjoyable read. I literally couldn't put it down. It stole my whole day.

It has gripping plot. The characters are lovable. It has a good amount of humor. Also, a lot of rich world building.

The second I finished it I was bummed out because it was over. I wanted to read it again immediately.
sapphiction is storing 516 ebooks on Libreture. Sign up and start your FREE library today!
Sign Up
Details
EPUB format

Publisher: NineStar Press, LLC

Published: 8 Jan 2018
File Size 2.4 MB
Activity