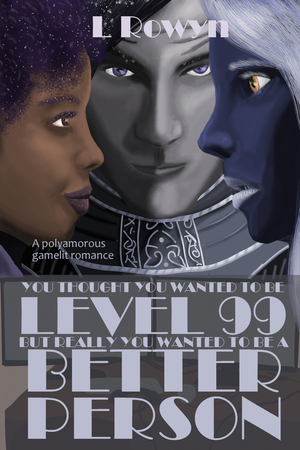 Level 99

Yazae
Read
Description
Three Gamers, Two Ex-Lovers, One Comedy of Errors
When Griffin met a gorgeous young woman in a Guardians t-shirt, he shouldn't've led her to believe he was an expert at the Guardians MMO -- which he hasn't played in years. Now he's desperate to make up for lost time and level up before Kalisha returns from her vacation and expects to play it with him.
After Rachel stumbled into a group in Guardians with her ex, she should've told him who she was. But it's wonderful to game with Griffin again, especially since the two of them found the perfect sorcereress to complete their tank-healer pair. How can she tell him now, and ruin the trio's synergy?
When Kalisha decided to play Guardians on her vacation, she didn't want her friends to tease her about it. But using an unknown alt to group with her housemate wasn't the most ethical plan. Especially not given that Kalisha already has a crush on her. Rachel is bound to find out eventually, and it's only getting more awkward the longer Kalisha waits.
 Meanwhile, the three players grow increasingly close as their characters level together ...
Details
EPUB format

Publisher: Delight in Books

Published: 16 Jan 2021
File Size 1.4 MB
Activity