Book Buddles are:
"Handmade book covers in linens & heavy cottons, padded with a foam stabiliser to keep your books looking beautiful!"
The brainchild of Jules Swain, Buddles are really nice cases to keep your books, e-readers and tablets safe and sound. Jules sells her handmade Buddles from her Etsy shop and takes custom orders, so that rare e-reader model you imported from France can get a cuddle too.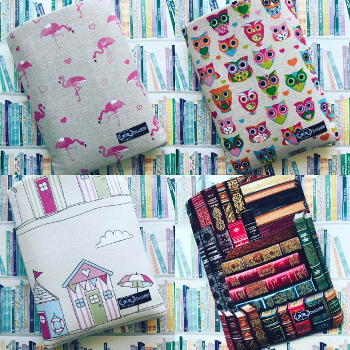 For a bit more insight into Jules' work, here's a great article by Rambling Lisa: Meet Jules from Buddle.
Here are some photos of my own Buddle, that Jules custom-made to fit my (vintage?) Sony Reader.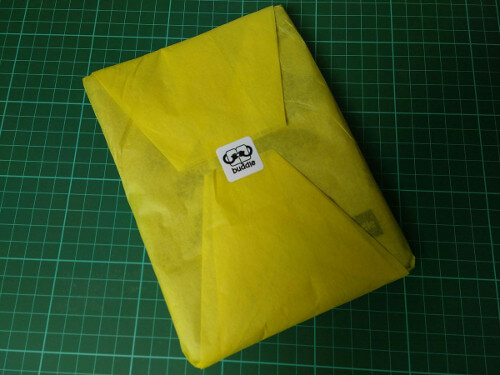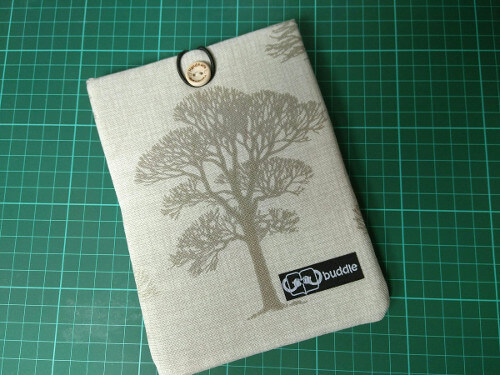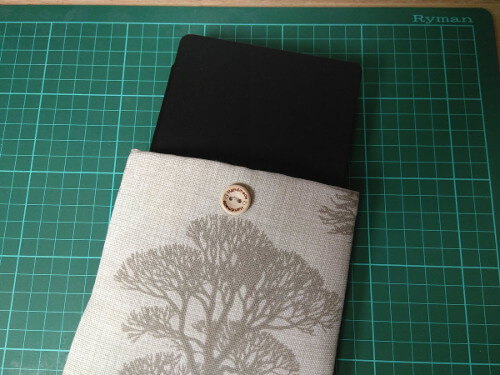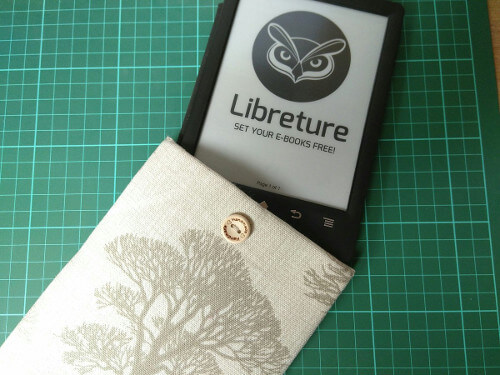 Order your custom Buddle
There's already a great selection of Buddles to choose from, but Jules has confirmed that she is happy to make custom ones to suit your device perfectly. To help you order the correct size case for your e-reader, I've listed some common device sizes below.
I'll keep expanding the list when I spot new or missing models.
E-Reader Size Chart
Kobo
Kobo Aura ONE: 195.1 x 138.5 x 6.9 mm
Kobo Aura H2O Edition 2: 129 x 172 x 8.8 mm
Kobo Aura H2O: 179 x 129 x 9.7 mm
Kobo Aura Edition 2: 159 x 113 x 8.5 mm
Kobo Aura HD: 175.7 x 128.3 x 11.7 mm
Kobo Aura: 150 x 114 x 8.1 mm
Kobo Mini: 102 x 133 x 10 mm
Kobo Glo HD: 114 x 157 x 10 mm
Kobo Glo: 114 x 157 x 10 mm
Kobo eReader Touch: 165 × 114 × 10 mm
Kobo eReader Wireless: 184 × 120 × 10 mm
Bookeen
Cybook Muse: 155 x 116 x 8 mm
Cybook Muse Light: 155 x 116 x 8 mm
Cybook Muse Frontlight: 155 x 116 x 8 mm
Cybook Muse HD: 155 x 116 x 8 mm
Cybook Ocean: 196 x 150 x 7 mm
Sony
PRS T-1: 173 x 110 x 8.9 mm
PRS T-2: 173 × 110 × 9.1 mm
PRS T-3: 160 × 109 × 11 mm
Pocketbook
Basic Lux: 174 × 114 × 8 mm
Basic 3: 174 х 114 х 8 mm
Aqua 2: 114 х 174 х 9 mm
Basic Touch 2: 174 × 114 × 8 mm
Touch HD: 113 × 175 × 9 mm
Touch Lux 3: 114 х 174 х 8 mm
InkPad 2: 195 × 163 × 7 mm
Sense (with Kenzo cover): 151 x 109 x 7 mm
InkPad: 195 х 162 х 7 mm
Ultra: 162 х 106 х 7 mm
Touch Lux 2: 114 х 174 х 8 mm
Basic Touch: 174 х 114 х 8 mm
Basic 2: 174 х 114 х 8 mm
Barnes & Noble
Nook Glowlight Plus: 163.6 × 119.6 × 8.6 mm
Nook Glowlight: 165 × 127 × 10.7 mm
Nook Simple Touch: 165 × 127 × 12 mm
Nook: 196 × 124 × 13 mm
Amazon
Kindle 1: 203 x 135 x 20 mm
Kindle 2: 203 x 135 x 9 mm
Kindle Keyboard: 191 x 122 9 mm
Kindle DX: 264 x 183 x 10 mm
Kindle Touch: 173 mm x 119 mm x 10 mm
Kindle 4, 5: 165 x 114 x 9 mm
Kindle Paperwhite (1st, 2nd & 3rd gen): 170 x 117 x 9 mm
Kindle 7: 170 x 119 x 10 mm
Kindle Voyage: 163 x 114 x 8 mm
Kindle Oasis (no cover): 142 x 122 x 3 mm
Kindle Oasis (with cover): 142 x 122 x 8 mm
Kindle 8: 160 x 114 x 9 mm