The engineering hacking website Hackaday published an enlightening article on the work of Joey Castillo and his Open Book Project.
Joey's aim with The Open Book Project is to
"develop a open hardware eReader that truly belongs to the user".
An essential goal when you consider there are very few independent ebook reader devices out there.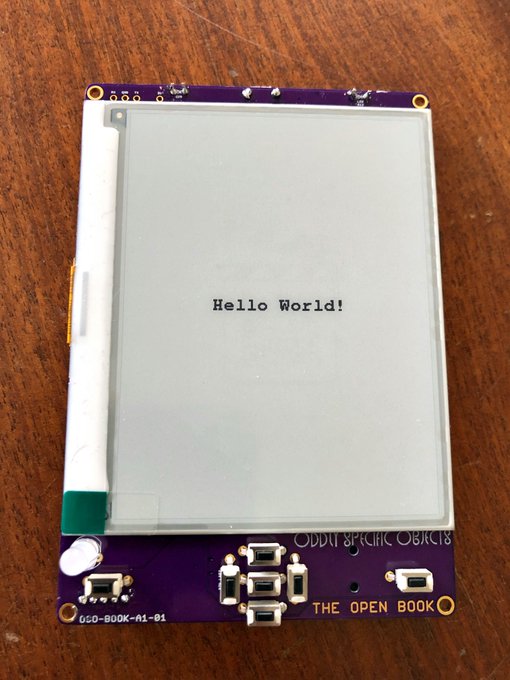 The cost of developing, building and supporting e-ink devices is usually carried by the large ebook retailers as a way to sell their books and fence off their market. Kobo with their Forma, Libra and Aura; B&N with their Nook; Amazon with their Kindles. These devices connect seamlessly to their respective online bookshops and allow instant browsing, purchase and download to get you reading quickly.
My own reading device is a 2013 model (vintage?) Sony Reader PRS-T3. It replaced my Kindle Keyboard (K3) after I closed my Amazon account and started only buying DRM-free ebooks. The Kindle still worked, but without an Amazon account would no longer allow me to create and organise books into collections.
The main requirement for the Sony Reader was that it wasn't tied to an account, and would read ePubs. Sony closed their own bookshop around that time, so no need to worry about the tie-in bit. And every single e-reader, other than Kindles, can read ePubs, so all good. But it's getting on a bit...
The Indie E-Reader
A world of completely independent e-reader devices or the tools to build-your-own.
That's why a device you can control, hack about with and really own is so important. Freedom of choice when it comes to electronics is fast disappearing. We mostly have the choice of two smartphone operating systems, one tied to the devices of a single company, Apple. E-ink devices are approaching the same point, with the large ebook retailers selling the devices as well as the books.
Joey's project could help us get to a point where we can buy a completely independent e-reader direct, or even off-the-shelf kits to build our own.
And the more independent the hardware is, the more likely they are to support indie software too. Libreture uses common standards like OPDS to deliver ebooks to compatible apps. Retailer-owned devices have no reason to support such features that would compete with their own shop. Services that help you track your reading goals, like the in-development project Liberry, and alternative Goodreads replacements, like Readlebee are reactions to the closed off nature of the existing services, and would benefit greatly from indie e-readers. If you need a bit more information about these, Libreture looked at the alternatives to Goodreads recently, where we've got a regularly updated list of all the services we've discovered.
The more ebook devices and services exist, and the more independent they all are, the better for us all.
Good luck, Joey and The Open Book Project!