I came across Tartarus Press during my latest batch of additions to the DRM-free Bookshop list, and I was immediately compelled to buy one of their e-books.
Founded in 1990, Tartarus specialise in collectable hardback limited editions of literary supernatural/strange/horror fiction, but they also sell e-books direct from their online shop. Their website is an interesting reminder of the nature of the collectible/vintage horror genre - there are no cover images on the listings pages...
Judging a book
Cover art almost always impacts on serendipitous browsing. People really do judge a book by its cover.
Tartarus' readership is a very different crowd though. They're usually specifically looking for Tartarus editions of books they already know of, and it's likely they'll have already read it. That's a very different process to the normal book-shopping experience, which usually depends on capturing attention.
I suspect Tartarus' readers will usually already know what they want from the shop. Their edition of Machen's finest works, a new Tartarus hardback of a H.P Lovecraft classic, and so on. Since Tartarus covers are not really the draw, the publisher can opt to do something different with them.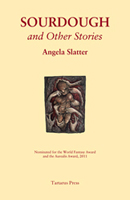 Tartarus' covers are immediately recognisable. They all have the same layout, cream colour scheme, and format. The differences, of course, are in the text - the title author, etc. - and a small piece of unique artwork centered on the front cover, creating a truly collectible book.
The e-books are also perfectly formed, as I found when I bought the digital edition of Sourdough by Angela Slatter. Some larger publishers who sell their e-books direct do a rubbish job of it and their books are sometimes ruined by carelessness. Not so Tartarus.
Their pricing is spot on as well. None of this £12.99-for-an-e-book-novel-rubbish.
All of Tartarus' e-books seem to be £4.99, despite the paper versions ranging in price to upwards of £30. This shows a much better understanding of the e-book as a different beast to paper titles, which is very welcome. The flexibility of the format and its price enables many publishers and authors to try out ways of reaching new readers and sharing their love of books. Finding a press that really gets this is always a treat.
Get ready for Hallowe'en.
Take a good look at Tartarus Press and their e-books.
If you're already a horror fan, you'll certainly find something to take your fancy, perhaps by an author you are already aware of. If you're new to horror, especially the older variety, consider spending a fiver on something suitably creepy and pop it onto your e-reading device of choice...or even on to your free Libreture account!
Happy Reading,
Kevin