"A window onto a beautifully developed world that widens the meaning of space opera." —New York Times

"The Tea Master and the Detective is the Sherlock Holmes retelling I always wanted and now I have it. And I want so much more of it." —Ana Grilo, Kirkus

"The Tea Master is an astonishing Holmesian mystery, in which Holmes is a woman and Watson is a spaceship. It is everything I wanted it to be. Tea, space, and mysteries within mysteries." —Mary Robinette Kowal
Aliette de Bodard's beautiful homage to Conan Doyle's consulting detective will enthral and enchant you.
This wonderfully crafted novella was my introduction to de Bodard's work, and what a first impression!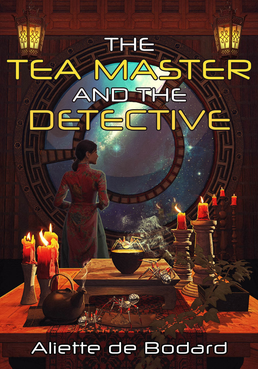 It's always exciting to start your first book by an author you've never read before. De Bodard's Xuya universe setting is something to behold, a group of loosely connected stories in which Vietnamese and Chinese cultures have reached the stars and develop their own mindships, artificial intelligences borne in human wombs and raised in mixed families. A far cry from the Anglo-Western science fiction we've become used to, it hums with possibilities we cannot imagine as an audience grown fat on the same old fare.
The story references Conan Doyle's Holmes and Watson while showing the utmost respect to the work. You could almost call it a wonderful science fiction character analysis of A Study in Scarlet.
Once, the mindship known as The Shadow's Child was a military transport. Once, she leapt effortlessly between stars and planets, carrying troops and crew for a war that tore the Empire apart. Until an ambush killed her crew and left her wounded and broken.

Now the war is over, and The Shadow's Child, surviving against all odds, has run away. Discharged and struggling to make a living, she has no plans to go back into space. Until the abrasive and arrogant scholar Long Chau comes to see her. Long Chau wants to retrieve a corpse for her scientific studies: a simple enough, well-paid assignment.

But when the corpse they find turns out to have been murdered, the simple assignment becomes a vast and tangled investigation, inexorably leading back to the past--and, once again, to that unbearable void where The Shadow's Child almost lost both sanity and life...
The book gave me hope that we as readers can, and must, look outside our usual comfort zones and approach stories from different cultures with anticipation and respect. I can't wait to read more of de Bodard's books, especially those set in the same universe.
A beautiful science fiction tale. And a must read for any fans of the genre or of Sherlock Holmes.
Happy Reading,
Kevin