"In upstate New York, in the woods around Woodstock, Dutchman's Creek flows out of the Ashokan Reservoir. Steep-banked, fast-moving, it offers the promise of fine fishing, and of something more, a possibility too fantastic to be true. When Abe and Dan, two widowers who have found solace in each other's company and a shared passion for fishing, hear rumours of the Creek, and what might be found there, the remedy to both their losses, they dismiss it as just another fish story.

Soon, though, the men find themselves drawn into a tale as deep and old as the Reservoir. It's a tale of dark pacts, of long-buried secrets, and of a mysterious figure known as Der Fisher: the Fisherman. It will bring Abe and Dan face to face with all that they have lost, and with the price they must pay to regain it."
In the acknowledgements at the end of his novel, John Langan reflects on how The Fisherman "...took a while to find a home. The genre publishers said it was too literary, the literary publishers, too genre." It's as if some publishers just don't know what readers want. After a few years of following the publishing industry from afar, I think I can safely say that it is definitely the case. They really don't know.
We have the legendary tale of how many publishers J. K. Rowling sent her novel to before she found a home for Harry Potter. We have authors who went DIY and ended up rather well off. We have plenty of examples of small publishers taking risks and winning awards. And now we have a 'literary horror' novel, whatever that is. What I got from The Fisherman was a damn good and very scary story. If large publishers don't recognise that, then what are they doing?
I think the answer is quite clear, they are sticking to the big names, milking the cow for all it's worth, coddling the goose that laid the golden eggs, and other hyperbolic phrases. In the meantime, publishers like Word Horde are supporting great novels like The Fisherman and doing a fantastic job. The Fisherman won the 2016 This is Horror Award for Horror Novel of the Year, and is nominated for the Bram Stoker Award for Superior Achievement in a Novel, for cryin' out loud.
Update (30/04/2017)
The Fisherman has since won the Bram Stoker Award for Superior Achievement in a Novel. Congratulations John and Word Horde.
Lovecraftian? A bit.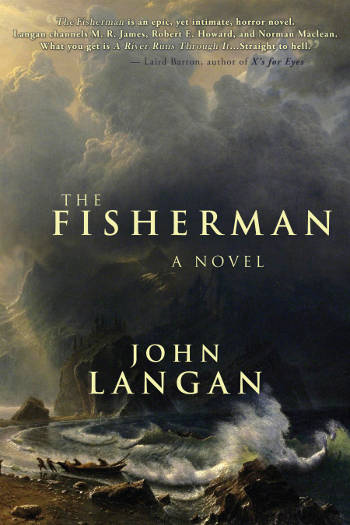 Yes, The Fisherman is a little Lovecraftian, with its ancient gods, tempting cultists, and watery... things. But it has much more going for it than just an homage to a genre. In its own way The Fisherman is a work of beauty, a tale of loss, grief and longing that Lovecraft never came close to. It has full, rich and believable characters. You grieve with Abe as he tries to pick up the pieces. You worry about what Dan will do. And when he'll break. You will wonder which story you are actually reading and who is telling it. Are we still in the diner?
The Fisherman is to H. P. Lovecraft as Consider Phlebas is to Edgar Rice Burroughs. An evolutionary leap in a genre. A defibrillator to the heart of the modern horror novel.
Yes, it can be considered literary. But I'm not really sure what that means. I've read my share of 'literary' titles, and it has sometimes (only sometimes) felt like hard work for meagre gains. Don't be scared off by a label for what is a beautiful piece of work. The Fisherman simply... flows. Like Dutchman's Creek...
The story-within-a-story portion did take me by surprise to begin with. It has almost a tongue-in-cheek quality to it. The author is almost winking at you as you read it, saying "Hang on in there. Wait for it." The pay-off comes. Big time. The story spirals into literary and emotional depths and I found myself unable to put it down. After 282 pages of great writing I felt satisfied, satiated and scared shitless.
As Thomas Mitchell wrote in his review on Kobo.com in February:
"Either way, the underlying themes as I interpreted them were creepy enough to make me sleep with a dim light on for at least two nights. No more horror before bed for me. Cheers!"
Small publishers do it again
The This is Horror win and the Bram Stoker nomination are both well-deserved and go to show that large publishers really need to pay attention and start taking risks again. There is only room for so many books on a reader's bookshelf, or in my case, a MicroSD card, so take some risks. Recognise what it means to be a publisher, and publish some unknowns.
Or, in fact, don't bother! If the small presses continue to publish such greats as this, then you really can carry on regardless. Readers will feel safe in the knowledge that small publishers have their backs, and are willing and keen to publish genre-breaking stories that they will consume with fervour.
Publishers can ignore those manuscripts that arrive at their doors from unknown authors. They will know that small publishers will see them for what they are. Opportunities.
Kudos to John Langan and to Word Horde.
Buy The Fisherman
The Fisherman by John Langan is available DRM-free from:
More details in my library page for The Fisherman.
Happy Reading,
Kevin