Covers account for a huge amount of customer interest in a book. In my last DRM-free Find, I mentioned how it was the cover that initially grabbed my attention when it came to that particular title.
On a site like Smashwords, where most books are self-published, the covers aren't always of a high quality. The good covers invariably stand out.
At Angry Robot Books however, the covers are always professionally designed and of a very, very high quality. Will Staehle and Joey Hi-fi, for example, your books are going to be eye-catching. And in a shop full of eye-catching covers, the title and description then have to do their job and attract the potential reader.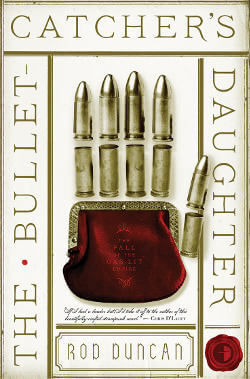 The Bullet Catchers Daughter by Rod Duncan, is nothing if not intriguing. It conjures images of dangerous circus acts in Victoriana steampunk settings. After wonders like The Mad Scientist's Daughter, though, you start to worry about title trends (remember when all book covers looked like Dan Brown's?).
So, let's move on to the description.
"Elizabeth Barnabus lives a double life - as herself and as her brother, the private detective. She is trying to solve the mystery of a disappearing aristocrat and a hoard of arcane machines. In her way stand the rogues, freaks and self-proclaimed alchemists of a travelling circus.

But when she comes up against an agent of the all-powerful Patent Office, her life and the course of history will begin to change. And not necessarily for the better..."
And that's when you click the Buy button.
It's short, captivating and already has you hooked. It works.
And so does the book. It's a gripping read, propelled along by a brilliantly written period style that firmly places you in the world. The pace is quick. The characters are sharp, rich and interesting. You get a mild-steampunk, rollicking ride through alternate-history Britain after the Luddite uprisings. Recognisable locations mixed with carefully applied genre tropes keep this book from becoming yet another steampunk adventure and, in turn, raises it above its fellows.
I will be buying the second in The Fall of the Gas-Lit Empire series, Unseemly Science, and won't hesitate to look into Rod Duncan's other works.
Algorithms aren't everything
By browsing many bookshops, rather than just one; by looking for new authors as opposed to the constantly promoted and safe best-sellers, you can discover gems you may have otherwise missed.
A strong cover design, illustrating a clear story and writing style, with a catchy, intriguing and exciting description will grab the potential reader. It's all obvious, of course. But when everything on shops like Amazon looks the same or is driven by automated listing scripts instead of curated shop-fronts, the buyer has a much more difficult time finding their gems.
Independent or smaller shops that you come to know for their particular style can give you a head-start in finding your next favourite title. Find out which publishers you like. What kind of titles do they publish? Do they have their own shop? Let them present their titles to you themselves, instead of depending on the usual algorithms of faceless orthodoxy.
Buy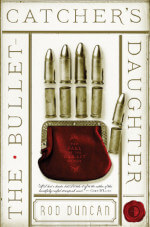 The Bullet Catcher's Daughter by Rod Duncan is available in DRM-free ePub and MOBI formats from Angry Robot Books.
You can also buy the entire series in The Fall of the Gas-Lit Empire Boxset