Lots of publishers sell through Amazon, Kobo, iBooks and other large e-bookshops. But readers may not know that many of those same publishers also sell their books through independent retailers or direct from their own websites.
Each week, this new series promotes a selection of bookshops, centred around a particular genre. In this third post, we're going to look at the Crime genre.
The first week's article was Discover Indie Romance Bookshops, followed by Discover Indie Science Fiction Bookshops.
Silent but deadly
These headings are getting harder to write, you know. But this one definitely suits the state of e-books in the Crime genre.
According to a 2016 article by Alastair Horne, Crime Pays in the UK: Could It Have to do With the Setting?, and based on Nielsen's 2015 figures, Crime was the number one genre by volume that year.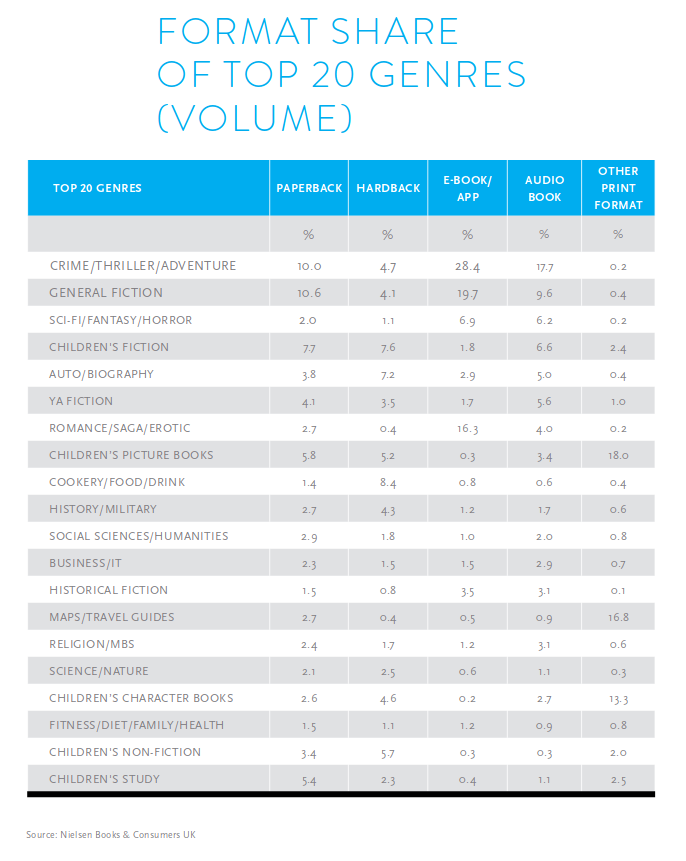 The largest percentage of those sales were for e-books, with 28.4%. That's almost double the paperback and hardback sales combined. Crime e-books are killing it, and the figures prove it! So why was it so difficult for me to find direct-selling crime fiction publishers when I had a relatively easy time finding Romance bookshops, while the article shows:
Nielsen figures for volume in the top 20 genres, show crime leading romance almost four-to-one in the UK in paperback and by a bit more than twice in ebooks and apps.
In these articles, I highlight bookshops that are already included in my DRM-free Bookshops List. After digging through it for this article, I realised my list included only a single dedicated Crime Fiction publisher/bookshops: Fahrenheit Press. And they only started selling direct last month!
Crime is, or at least seems to be, mainly a part of the larger publishers' genre range. And by large, I mean the Big 5. Those five being Hachette, Harpercollins, Macmillan, Penguin Random House, and Simon and Schuster. Smaller publishers get a look-in, but only as an even smaller range, smaller 'names' (I hate writing that), and smaller sales. The big guys still seem to own this particular genre.
But there are plenty of places to buy your Crime Fiction e-books directly, with more curation, and without DRM.
The Crime Fiction Bookshops
For this week, I've expanded the list to include bookshops that 'also sell' crime fiction. There are some real finds out there, but the almost-hidden nature of the genre means that you'll sometimes have to think outside your usual browsing patterns and dig through some Mystery, Murder and Killers Reads.
I've also included a couple of bookshops that sell True Crime e-books. Just to prove that sometimes, truth really is stranger than fiction.
Founded by publishing veteran Chris McVeigh, Fahrenheit Press publishes crime fiction from the noir, hard-boiled to the experimental.
They've only recently started selling direct from their website, but when asked if their e-books are DRM-free, they responded with: "Yup. Entirely. Cause we're not twats...", which is good enough for me.
Fahrenheit certainly do things differently, so are definitely a publisher, and now retailer, to watch out for.
"We're intent on doing things differently and we're building a publishing company that's heavy on curation and deadly serious about marketing."
Books are available in either ePub or Mobi formats.
Established in 1999, and based in Norfolk, Salt Publishing is:
"...one of UK's foremost independent publishers, committed to the discovery and publication of contemporary British literature."
They publish in a range of genres, including Modern Fiction,Short Stories, Fiction Anthologies, Crime & Mystery, Creative Writing, Poetry, Children's Poetry, Poetry Anthologies and Literary Studies.
The majority of their books seem to be available as e-books, and are sold in ePub format.
"Fantastic Books Publishing is a family run, independent publishing house based in East Yorkshire.
We pride ourselves on delivering extremely high quality e, print and audio books while maintaining our foundation of charitable giving with all of our projects."
If you want to know more about how Fantastic Books bucks trends, take a look at their inspiring History page.
Fantastic Books offer a huge range of genres, including Science Fiction, Fantasy, Autobiography, Crime, Poetry, Paranormal, Humour, Literary Fiction, Horror, How To, Childrens, and Cookbooks.
They are also official licencees of fiction based on the Elite: Dangerous computer game.
Customers receive all three ePub, Mobi and PDF formats with their purchase.
Visit Fantastic Books Publishing
"Barking Rain Press seeks to publish novels and novellas in a variety of genres, including General Literature, Speculative Fiction (Fantasy, Horror, and Science Fiction), Mystery/Crime, Romance, Suspense/Thrillers, Westerns and YA/Young Adult."
Barking Rain Press is a non-profit publisher, based in Washington State in the US.
Their e-books are available in ePub, Mobi, and PDF formats. They also sell paperback+e-book bundles, which includes a hefty discount compared to buying both formats separately.
"Monsoon publishes fiction (literary and commercial) and nonfiction (biography and autobiography, true crime, food and drink, history, travelogues and current affairs) with Asian themes. It publishes quality books from outstanding writers the world over and has several regional bestsellers to its name."
Monsoon Books is an award-winning independent publisher of English-language books on Asia. With over 100 books in stock, there's a huge range of quality titles to choose from. Their True Crime section is impressive.
Their e-books are available in both ePub and Mobi formats and are free when buying a paperback.
Need some Tamil Pulp Fiction? Blaft is for you! These guys are independent, based in Chennai, India and offer "...bestselling Indian and Pakistani crime novels, Nigerian soyayya fiction, experimental writing, pulp art, folktales, graphic novels, and picture books about girls who are in love with monsters." What more could you ask for?
Book View Cafe is a cooperative publisher, whose members are comprised of the authors themselves. They cover a broad spectrum of genres. Here's how the sales revenue is split, according to their site: "At BVC, 95% of the cover price goes to the author. That's more than at any other online bookseller (Amazon, B&N, iTunes)."
The home of Michael Marshall Smith's titles, EmEmEss is the best place to buy your copies of the must-have, and very creepy, Straw Men series of novels.
The books are available as either Mobi or ePub formats and proceeds go direct to the author.
Not to be confused with the now closed 'pay what you want' bookshop, this Open Books Direct have a more traditional model and some very interesting quirks.
Their bookshop is hidden away amongst the links on the website, but is referred to as Open Books Direct. While the site may give the initial impression of being amateurish, the books seem to be of a very professional standard. The covers are especially nice and varied.
Each book has its own colour-schemed page which contains plenty of information.
E-books are available in ePub, Mobi and PDF formats, and are very reasonably priced compared to their paper counterparts.
Diversion Books is a New York based independent publisher.
They publish and sell a huge range of titles, from colouring books and classics to romance and time travel.
E-books are available as ePub and Mobi and you get both with each purchase.
Diversion is the place to buy Emma Newman's final split Worlds books in a DRM-free format.
Founded in 2010 by two partners with experience of the e-book industry, Untreed Reads is home to over 1,500 titles from a range of authors. They stock fiction, non-fiction, children's books and foreign-language titles.
This particular book, Waves in the Wind, caught my eye with it's nicely designed cover. That's all it takes sometimes.
It's clear from the blog that Untreed are constantly trying out different approaches and are doing their best to get their books in front of readers. Take a look and see if there's something for you.
Most books are available in ePub, Mobi and PDF formats, but check each listing first, since the options vary.
Wildside Press mainly concentrates on reprints, books originally published between 1930 and 1990.
They have an interesting approach where they compile Megapacks around particular themes, eg. 'Sherlock Holmes', and publish them as e-books. Think of it as a bundle approach that resurrects lost titles.
Their e-books are usually in ePub, MOBI and PDF formats.
See what I mean? Hidden gems just waiting to be found. I've grabbed a few books from Fahrenheit Press myself, and I can't wait to get into them.
Remember, buying direct ensures that authors get a bigger cut of the profits, and the publisher, and therefore us readers, are not beholden to a massive online supermarket.
You can find these and many other bookshops in my DRM-free Bookshops list.
Next Week
We're going to take a look at a genre close to my heart next week. The Fantasy genre has changed quite a bit in recent years. Let's see if the way we buy and read the books has changed too.
Keep up-to-date with these weekly posts by subscribing to the Libreture newsletter. As well as receiving Discover Indie Bookshop posts direct to your inbox, you'll be informed about all the latest DRM-free e-book news, latest new features, and how to make the most of your e-book collection. Join in!