Every year, the Free Software Foundation organises the International Day Against DRM (IDAD) to mobilize protests collaboration, grassroots activism, and in-person actions against the grave threat of DRM.
For 2019, the campaign is concentrating on education and digital textbooks.
Too many tools, technologies, books, games, movies, and music are coming to us locked down with DRM -- whether they're streaming or claiming to be locally hosted. Recently we have seen it further extend its sinister influence into education, especially in the form of "digital-first" textbooks that put onerous restrictions on students that forbid them from accessing the course materials they have bought, and the education that they deserve. The "Netflix of textbooks" model practiced by Pearson and similar publishers is a Trojan horse for education: requiring a constant Internet connection for "authentication" purposes, severely limiting the number of pages a student can read at one time, and secretly collecting telemetric data on their reading habits.
To do this, the FSF is:
calling on Pearson and similar companies to stop putting a lock on our learning, and demonstrate their alleged commitment to education by dropping DRM from their electronic textbooks and course materials. At the same time, it is our plan to show that a better world is possible by encouraging people to contribute to collaborative and DRM-free textbooks, and resist the stranglehold these publishers are putting on something as fundamental as one's education.
Libreture supports International Day Against DRM each year, and 2019 is no different. For this year, Libreture has a great offer for you!
Get 50% off any new paid plan for 6 months by subscribing or upgrading to one during the week following the 12th of October, 2019.
Create your FREE account today, and get ready to upgrade from Saturday, the 12th of October.
If you already have a Free Libreture account, simply log-in and upgrade when the offer period begins to receive your 6-month long discount.
You can find over 200 DRM-free bookshops in our handy list. It includes many sources of textbooks and educational titles that are DRM-free.
More information about the campaign and other participating organisations on the Defective by Design website.
Have a great Day Against DRM, and enjoy your fantastic special offer!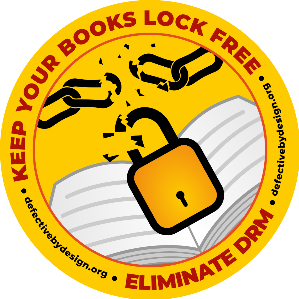 Happy Reading,
Kevin