R/evolution by Tenea D. Johnson leaves the reader wishing that it had been made into a blow-by-blow novel series, desperate to follow the disparate characters in detail through all their tragedies and triumphs, but—the author no doubt had reasons to leave it as is. She uses only the exact scenes needed to tell the story, often retrospectively. This is skilled storytelling, unpretentious and fulfilling and gives you plenty to process afterwards.
What's it about?
Dystopias don't have to be far into the future, and they don't have to be fuelled by nuclear war, zombies, or apocalypses of a global kind. The local kind could be far more likely. In R/evolution, America's society destroys itself from the inside by increments, led by the familiar fouls of racist bigotry and good intentions, and driven by injustice and technological advancement, with a backdrop of right-wing media. It isn't the revolution that kills society, it's the response of the majority to the actions of the revolutionaries.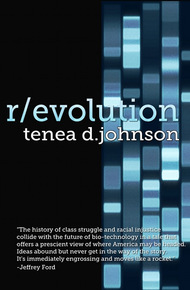 Told through a linked series of vignettes, we follow the lives and sometimes deaths of those who are crucial to the Reparations movements. A geneticist, an activist, a senator's daughter, and the children who are the heart of the future, amongst others. The story covers decades in time, flitting in and out of people's lives with an immense vision of what could be if Western society lets things continue as they are.
What's special about it?
There are no tropes in R/evolution, and nothing is played out for dramatic effect alone. At the same time, the reader is rocked to the core by the dogged awfulness that is the fight for true equality in the face of weighted scales. Despite the near future setting, the style of war is familiar to anyone who currently reads the news, and we learn about it largely from a distance, third party: demonstrations turned deadly through government over-reaction, mob rule and vigilantism to compound the tragedy, and truth hidden by the media.
The inherent racism of white people is described—not accused—often across the distance of time or television media. Individuals, mobs, government; their behaviour says it all—as it does in real life.
The genetic and technological adaptations to humans do not require huge stretches of imagination or more than a rudimentary understanding of alleles and factors. As readers, we aren't expected to understand cyberpunk here, but the concepts are clear as day, written accessibly and with just the right amount of description.
The strength and courage of motherhood—especially as an initiator, an instigator—comes into focus many times, right from the start, a theme throughout the book, and although sacrifice plays a huge part, it isn't the pinnacle of those roles. The oppression of family, the sacrifice of self—so often written into stories of motherhood—has no place here, making these multifaceted characters incredibly powerful and steadfast, not in control, but anchoring the story. Women throughout are immensely strong, pivotal characters, supportive, stalked by their own demons, and revered by their men. Men are variously strong, reliable, fanatically focused, short-sighted, and weak.
Nothing is over-egged. Nothing is said that doesn't need to be said. This is the first novella I've read that didn't make me feel short changed. By not cramming absolutely everything into this book, R/evolution's messages—warnings—are clear and effective.
Will you like it?
Thoughtful, precisely written, well-designed and powerful, Johnson's R/evolution is a book filled with likeable, admirable, 3-D characters (as well as some unpleasant ones). It's about the future struggle for Black emancipation, but while it plainly acknowledges the basic right of that desire, it draws attention to the flaws of extreme thinking, the quandaries that must be considered or else the cause be willfully misunderstood (and even when they are considered, it still is), and underscores how easily equality is ripped away from—or never even truly within the grasp—of those who have always been systematically and systemically oppressed. It's about classism and racism, systemised and individual. I loved it and I'm hungry for the next part, Evolution. If you want books that are truly meaningful, this one's for you.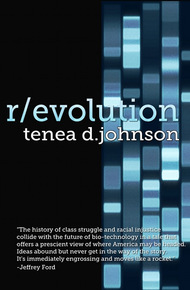 R/evolution by Tenea D. Johnson is available from Scarlet Ferret Bookshop, along with the sequel, Evolution. Each book includes exciting digital extras.
You can also buy the Revolution Bundle by adding both books to your cart for a special discount.
Guest post by Sakina Murdock.