The Postman by David Brin, is a much-needed salvo in these uncertain times of ours. It is more prescient than anyone who has seen the Kevin Costner flick might have ever imagined, and much of it is completely believable. Oh, and by the way: it bears almost zero resemblance to the movie. Artistic license never had it so free as Costner took with the film.
In essence: The Postman by David Brin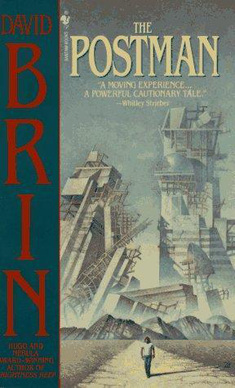 The Postman follows the adventures - I'd say 'exploits', except that the protagonist tries so hard not to exploit others - of a truly reluctant hero. Spending his life just getting by, travelling an America that has found itself 16 years deep in a mired and believable dystopia, Gordon Krantz prefers to act out a few misremembered plays in exchange for a few meals and a bath.
All of that changes, however, in the opening paragraphs when he is robbed of his few possessions and left to die without clothing or shelter. Crazed by his need to survive, Gordon follows his robbers, but instead happens upon a mail van that had been driven into a ditch 15 years before.
What starts out as a clever way to get him safely into a town on a more permanent basis, develops into a full blown attempt to reinstate the long lost postal service, providing infrastructure and communication between towns that haven't been in contact with each other for over a decade.
At no time does Gordon ever intend for any of this to happen. Swept into the permanent role of a postal inspector by the credulous and desperate human beings he meets, he finds himself at the front of all the action, leading the way towards elusive civilisation.
What's special about it?
Feminism makes this book extra special. It isn't just about the hero of the story - it's about the women in his life whose unexpected behaviours and beliefs take everything much further than he ever would have done.
In fact, the main theme and undercurrent of The Postman is that of the perils of extreme masculinity and maleness. Gordon is most definitiely not an 'alpha' male, thus providing juxtaposition against the cited values of the Holnist bad guys - the idea that men should be strong and should show strength through violence - but the women he meets are alphas in their own way - each and every one.
What's more, although the feminism presented in the book is not recognisably any particular branch of that political stream, this novel thoroughly demonstrates - and, to an extent, examines - the reason for the success of the subjugaton of women since time immemorial: men are physically stronger than women. The clarity of the depiction of what would happen to women in a feudal political system changed my paradigm.
The political themes, the vision of how far toxic politics could go, given the chance, and the suggested solutions to the problems are at once very 1980s and also 2020s. Beautifully interwoven with all of that is a true and discernable love of America. This author does not hate his country - he loves it, and it shows.
Will you like it?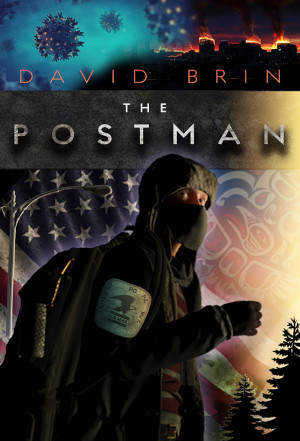 I don't think I've ever read a book quite like this one. Although the time period only covers a couple of years, it has the feeling of a saga, as Gordon is catapulted from one village to another, mainly armed only with the invented declarations of a Restored United States government. It has none of the sentimentality of the movie that was made in its name, and it's a disturbing prediction of what could lie ahead, peculiarly American.
If you like big stories with big heart and writing that is particularly good at deploying tension - and occasionally dread - you could do no better than to download a copy of The Postman by David Brin.
Buy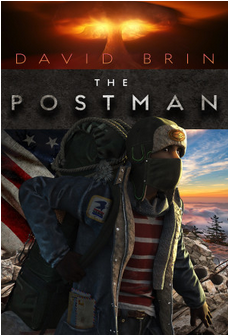 You can buy The Postman by David Brin in DRM-free formats from: