A dystopian story, a couple hundred years in the telling, Evolution is the shelf-mate of Johnson's R/evolution, though it's a very different book from the first. If you're greedy for more of the vision of a world swept away in hatred, bigotry and genetic enhancement, this is a book that delivers over and again, and will need re-reading, probably several times, to get the full understanding of its messages.
Evolution by Tenea D. Johnson: What's it about?
Evolution follows the life and trials of William, a key character from R/evolution. With his apparently immortal life span and unsurpassed ability to heal, William has what the Gene Corps want ... and they're prepared to kill millions to get his DNA.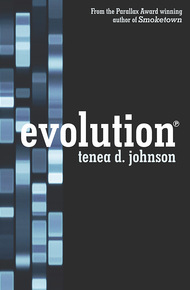 Along the way, he picks up Lillian who has her own remarkable genetic blueprint. Together, these two highly tenacious, very real characters risk everything to safeguard the increasingly tenuous future of disadvantaged humans.
There's depth to Johnson's characters. They aren't just 2-D people created to serve the purpose of the author; they're real, with hardness and softness according to their nature. You can never get too close to them, but their losses and gains are etched in your craw, as if you know them well. Or as well as they might let you.
I admit, the first quarter of Evolution I found relatively heavy going, but I'd found the end of R/evolution to be so terrifically sad, I started from a very low emotional state. Hope was dead to me. From the point where I realised what the long term plan was, the book was impossible to put down. The subtleties of character speak volumes of the development time spent by the author, and as with R/evolution, what's not written is as important as what is.
What's special about it?
Apart from a story arc that spans the best part of 200 hundred years, there's one particular aspect that stands out most clearly about Evolution. Johnson writes hope into her work. She builds it in, gently, quietly, without fanfare. It isn't obvious at first, just a soft nudge here and there---in the face of gassed populations, dengue fever and total injustice, you think you're mistaken at first. Around every page turn, you're expecting disaster, and there are enough of those to justify the lack of belief you have that hope could even be a thing in such a world. But keep reading.
For that, Johnson is currently my total writing hero.
Will you like it?
This is a book that speaks of all the possible outcomes of the long-term fight between the haves and have-nots. In a world of undeniable climate disaster, unspeakable politics and disaster capitalism, where money and wealth and the occasional remarkable person are all that make things happen on a signficant scale, Evolution is a book that cries out to be read. Despite the aforementioned hope, Johnson pulls no punches and provides no fluff. She's all about adaptation and a preparedness to see things through to the bitter result of all that has gone before.
If you've got an interest in the human condition, an anarchist's desire to change the system, or if you just want to read a story that takes society's current nightmares and places them forefront in the imagination, this one's for you. I recommend buying both in the duology and reading them one after the other.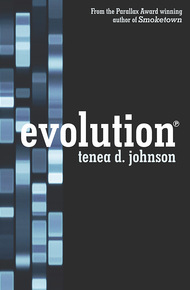 Evolution by Tenea D. Johnson is available from Scarlet Ferret Bookshop, along with the preceding book, R/evolution. Each book includes exciting digital extras.
You can also buy the Revolution Bundle by adding both books to your cart for a special discount.